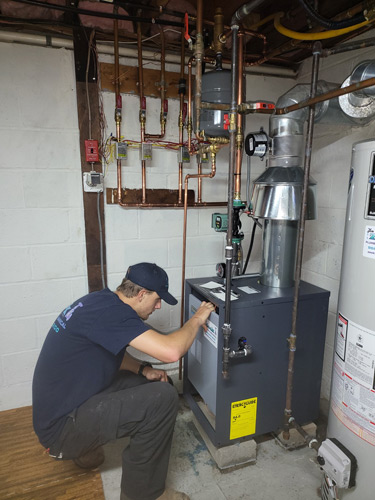 Do you have an oil or gas boiler in your home? If so, you are definitely in the right place! Zeek Plumbing can assist you with all of your boiler service and maintenance needs!
Annual Boiler Service
Zeek Plumbing recommends servicing your boiler and heating system annually because it will extend the lifespan of your boiler. Some manufacturers' warranties require yearly service as a condition of their warranty. Sediment, mineral deposits, and debris will clog internal ports of the boiler over time. You run the risk of having to replace internal parts or potentially the boiler itself if the debris is not cleaned annually. Prior to the winter heating season is the best time to have your boiler cleaned and serviced to make sure it is running at the best possible efficiency. It is much easier to address issues when the boiler does not need to be used as parts may need to be ordered for replacement. We never want to leave our customers without heat for an extended period of time!
Zone valves can stop working which does not allow the boiler to properly communicate with certain heating zones.
Thermostats can stop working which does not let them properly communicate the required temperature with the boiler. We always recommend our customers to replace the batteries in the thermostats prior to us coming on site.
Pilot lights and ignitors can become clogged with dirt and debris. During yearly service, the ports can be cleaned, but eventually they cannot be cleaned anymore and have to be replaced.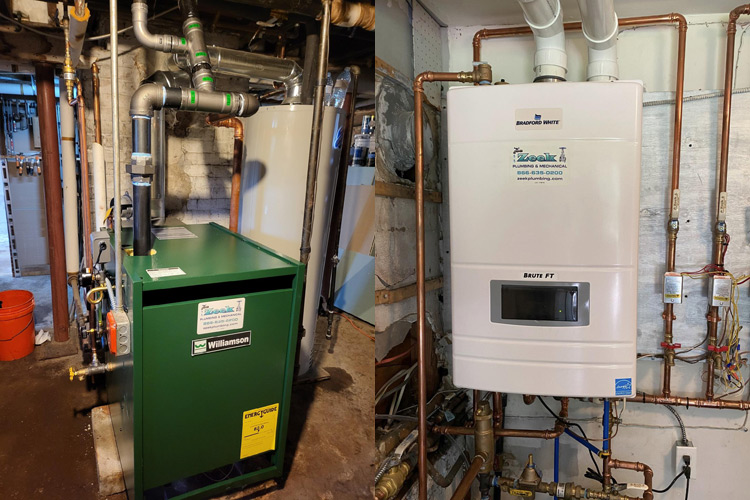 Eventually, all boilers have to be replaced. Zeek Plumbing can provide you with estimates to replace your boiler with a new high efficiency boiler or replace with the new equivalent boiler to your existing unit. We work with NJ Natural Gas and their Save Green Program to offer our customer's rebates and financing to assist with the costs of installing a new boiler. Their rebates and financing are based upon the efficiency of the new boiler. We recommend all of our customers to review the NJNG website for information to see how much money they can save!
Please contact our office at 866-635-0200 to set up your annual boiler service, request a quote for a new boiler, or ask any questions you may have about our boiler services!