We are Zeek Plumbing - Northern New Jersey's Premier Residential and Commercial plumbers since 2004
What can we help you with?
Is your current water heater on the fritz, or is it time for an upgrade? Our team of skilled technicians is here to assist you. We specialize in expert water heater installations for both residential and commercial customers.
Read more about water heaters here
Worried about clogged drains? At Zeek Plumbing, we provide comprehensive drain cleaning services to keep your plumbing system flowing smoothly. Our experienced professionals utilize advanced techniques such as snaking and water jetting to clear even the toughest blockages effectively.
Read more about drain cleaning here
Zeek Plumbing is your trusted partner for all residential licensed plumbers in NJ. Whether you have a leaky faucet or need a complete bathroom renovation - we can help! No job is too big or too small - our trained technicians will get to the bottom of your problem and fix it fast!
Read more about residential services here
Is your old boiler on its last legs? Zeek Plumbing offers complete boiler repair and installation services - have our technician do an assessment on your boiler today. We will give you our honest opinion and guide you through the process.
Read more about boiler services here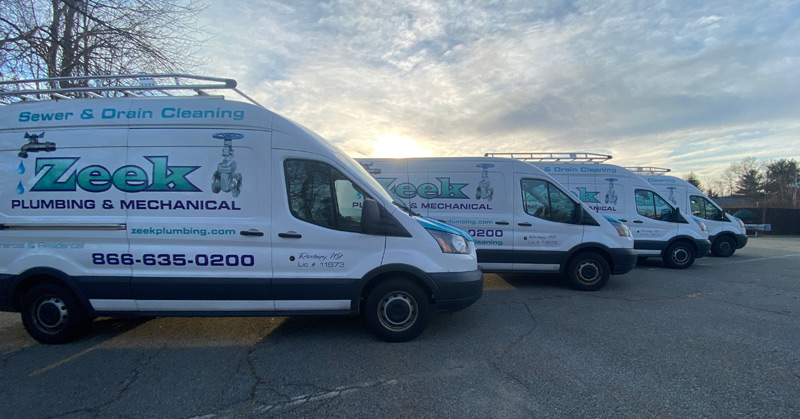 About Rick Zeek and Zeek Plumbing
Rick Zeek is the master plumber here at Zeek Plumbing. Rick is a leading licensed professional among plumbers in New Jersey who has been in business since 2004. He specializes in all aspects of plumbing for commercial, residential, and industrial customers.
If you're looking for best rated plumbers near Northern New Jersey, then, as a Zeek Plumbing customer, you will appreciate the quality and professionalism of our work. Whether you need new plumbing for a large commercial site or you have a leaky faucet, we're the right call to make. There is no plumbing problem, too big or too small for us here at Zeek!
In 2021, we were named one of the "Best of the Best" small businesses in our category. Click the image below to watch the complete video regarding what makes us one of the best commercial plumbing companies in NJ.
Why Choose Zeek Plumbing?
Our commitment to excellence sets us apart. Here are some compelling reasons to choose Zeek Plumbing if you're looking for a professional plumber:
With a team of experienced technicians and years of industry knowledge, Zeek Plumbing brings high expertise to every job. Our track record of successfully handling various plumbing challenges ensures you receive top-quality service.
We value your time and understand the importance of the prompt plumber in Succasunna, NJ. When you schedule a service with Zeek Plumbing, you can trust that we will arrive on time and complete the work efficiently, minimizing inconvenience.
Zeek Plumbing is committed to delivering the highest quality work. We use cutting-edge tools and techniques to ensure all services meet stringent standards. Your satisfaction is our priority, and our workmanship reflects that commitment.
We're very proud of our reputation and therefore we're very proud when our clients tell us that we're meeting or beating their expectations. We have over 100 5-star reviews online, and we respond to each one of them!
4.9/5.0 on Google, 5/5 on Yelp