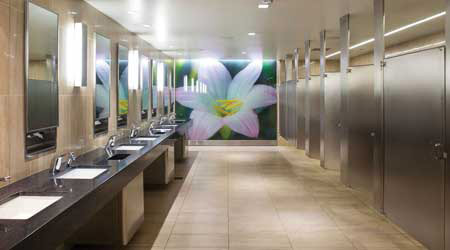 Zeek Plumbing offers reliable tenant fit-out services for our commercial customers. Whether your tenants need new sinks or toilets, gang baths, gas line replacement, kitchen remodeling – Zeek Plumbing is here to help.
The most commonly requested tenant fit out Zeek Plumbing is contracted to install is called a "gang bath" or a multi-user bathroom. They generally include rows of toilets and/or urinals, and sinks for a large number of daily users. This type of commercial restroom is commonly found inside stadiums, office buildings, and schools because of the amount of people using them. These gang baths are also commonly found to be sex-segregated.
Due to the amount of toilets, sinks, urinals, and faucets compared to a regular bathroom, there is an increase in plumbing issues that may arise. Commercial bathrooms and gang baths have a larger amount of daily users compared to a residential bathroom. Toilets, sinks, urinals, etc. are flushed more and used more which will contribute to more frequent issues. User's are also not as careful using plumbing fixtures as they are in their personal homes. Zeek Plumbing is here to help with any tenant fit out, gang bath installation, and/or repair problems that may arise within those bathrooms. We provide the appropriate solution to all plumbing issues such as:
Water leak detection
Re-piping of broken or leaking water lines
Troubleshooting of toilet and urinal issues
New installations of sinks, faucets, toilets, and urinals
All plumbing problems and installations not listed above
Choice of Bathroom Fixtures
Zeek Plumbing teams with Sloan to offer the most innovative bathroom fixtures which run with the highest efficiency and use less water. Consider these important details when choosing the necessary products for your gang bath.
Sinks – Sink systems are available that combine soap dispensers, faucets, hand dryers and sink basins to work together as one touch-free, hygienic and highly efficient system.
Toilets/ Flushometers – High-efficiency flushometers save water with every flush. They have a dual flush feature which helps to conserve water.
Faucets – Sensor faucets can use as much as 40% less water and also inhibit the spread of germs as they are hands-free.
It is important to check the plumbing in a commercial enterprise regularly. Call Zeek Plumbing at 866-635-0200 should you require any commercial plumbing repairs or have questions regarding gang baths.