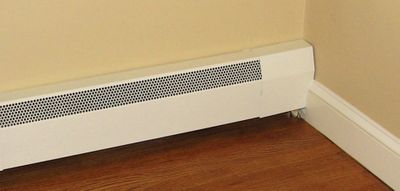 Hot water (or hydronic) baseboard heaters are a more cost efficient alternative to electric baseboard heaters. This type of baseboard heat employs hot water instead of electricity. The water is pumped from a boiler that keeps the water at a constant temperature. It then flows through pipes to individual baseboard heating units to heat rooms.
Advantages to Hot Water Baseboard Heating
Saves Money - Although the cost of a hydronic baseboard heater may be less than installing radiant heating, it may originally cost more than an electric heater. In the long run, the investment is well worth it, due to the savings on electricity bills.
Energy Efficiency - Hot water baseboard heaters are more popular today because they are more energy efficient than electric heaters. Of course, the type of boiler used to heat the water will affect the energy efficiency as well. Combi boilers, and other high efficiency boilers, are much more economical than the electric boilers which consume more energy.
Constant Flow of Warmth - The hydronic baseboard heater maintains a constant flow of warm air due to the fact that the boiler maintains the water at a constant temperature at all times.
Easy Installation - The hot water heater does not require any sophisticated installation, unlike the radiant heating system.
Safe - The hot water heater does expel any toxic substances, as it works with hot water.
If all of the components of the baseboard heater are of good quality (pipes, boiler, water pump) you should not have to worry about repair and maintenance issues. With quality components, hot water baseboard heaters are an efficient heat source.  They also tend to be more efficient than other central heating systems.
If you are in the market for baseboard heating, call Zeek Plumbing today for a thorough inspection and consultation on replacement options. To schedule an appointment please complete the contact form below or give us a call at 866-635-0200. You can also follow us on Facebook!