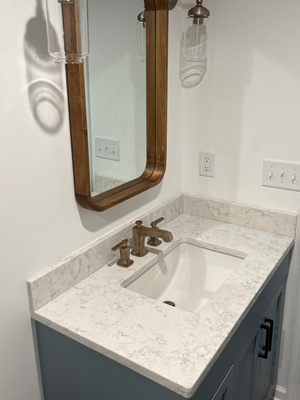 Zeek Plumbing can service all different types of faucets. Today many kitchen faucets offer functional features and high-tech options which prove to be extremely helpful in the workspace. The kitchen sink can contain spray heads, a pull-down kitchen faucet for an improved water flow and easy washing, as well as a variety of finishes, such as stainless steel.
Types of Faucets
Pull-Down
Pull-Out
Single Handle
Dual Handle
Commercial Style
Touchless or Motion Detection
Pot Filler
The appropriate style faucet can make a world of difference in your kitchen. For example, the motion-detection faucet fills a large pot with water simply by placing it near the sensor. It also washes dirty hands without having to smudge or mess up faucet handles. Again, kitchen tasks are made easier as pictured on the left with the pot filler which has a special body that moves outward. It can swivel out from the wall behind the stove to fill pots for cooking.
Services
Zeek Plumbing is experienced with the variety of faucets on the market and is skilled at repairing any problems that may occur.
Leaks/ Leaky Faucet
Loss of or Low Water Pressure
Rusting/ General Wear and Tear
At Zeek Plumbing, we are here to help with all of your faucet needs. To schedule an appointment please give us a call at 866-635-0200 or complete the contact form below. You can also follow us on Facebook!