Hose Bibs, Spigots or Outdoor Faucets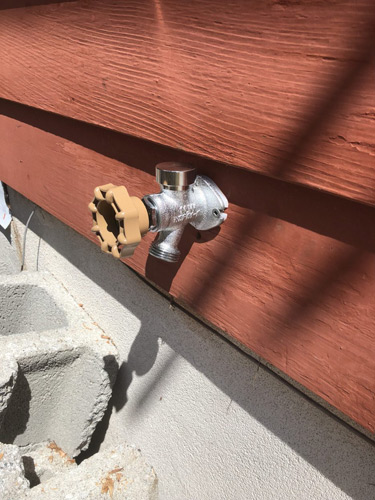 Hose bibs are the outdoor faucets that transfer water from the indoor system to the outdoors. They are usually located on the side of the house, allowing you to attach a water hose for various tasks. During the summer, we use our hoses for all sorts of things - washing the car, watering plants, filling the pool.
Many homeowners may find that where the hose attaches to their house, they have an issue... There may be water spraying out (whether the hose is on or not), no water comes out, or even that the hose bib has broken off of the house entirely!
When it is time to replace a hose bib, there are several different options available. Most customers prefer the "frost-free" version, which Zeek Plumbing recommends as well.
Frost-Free vs Standard Hose Bibs: What's the difference?
Frost-free
The new frost-free hose bibs shut the water off further down the system to prevent freezing in the winter.

Hoses must be detached

in order to ensure that water does not penetrate the stem of the hose bib during the winter which can cause freezing issues.
Standard
The standard hose bibs shut the water off much closer to the exterior of the house. This may cause water to freeze and possibly split the hose bib during the winter months.
In order to replace a hose bib, please call Zeek Plumbing at 866-635-0200 or complete the contact form below. We are happy to help you with any hose bib issues you may be experiencing.