Zeek Plumbing is taking you behind the scenes of radiant heat floor repair we recently made in Morristown, NJ.
What is Radiant Heating?
Radiant heating is a very efficient type of home heating where a pump sends heated water from a boiler through tubing laid in a pattern under the floor. Benefits of radiant heating include:
Radiant heat floors heat rooms evenly as all the heat is being distributed from the floor. A forced hot air system sends hot air out through vents, and it can take time for the heat to distribute throughout a room.
Radiant heat floors are quiet, it is circulating water underneath the floor, so you do not hear any fans or noise.
The problem and how Zeek Plumbing fixed it
The client reported they had water coming up from underneath the floor but couldn't necessarily identify exactly where the leak was coming from.
As with any industry, the plumbing industry is continuing to innovate and create new technologies. In order to repair a radiant floor leak, you must cut/break concrete to expose the piping. However, how do you know the location of the leak if it is underground? Using our new thermal imaging camera, Zeek Plumbing can pinpoint the area the hot water is escaping the piping. As shown above we can read the heat coming from the radiant piping, and where any abnormalities are indicated is where the leak is coming from.
Making the radiant heating repair
After confirming the location of the leak, our crew broke open the concrete floor, exposed the piping, and made the permanent repair to the radiant heat line. If air is left in the system, radiant heat floors have issues providing consistent heat. Our crew bled the whole radiant system to remove any leftover air and prevent any heating issues.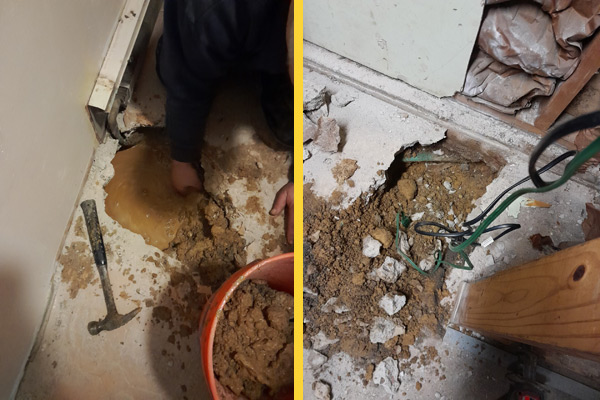 Once all piping is repaired and the system has been bled out, the concrete must be patched. This radiant heat line had multiple breaks, so multiple concrete holes were patched. The concrete will dry, and there will be no sign Zeek Plumbing was even on site! Our main goal is to always leave our customers' homes cleaner than when we arrive!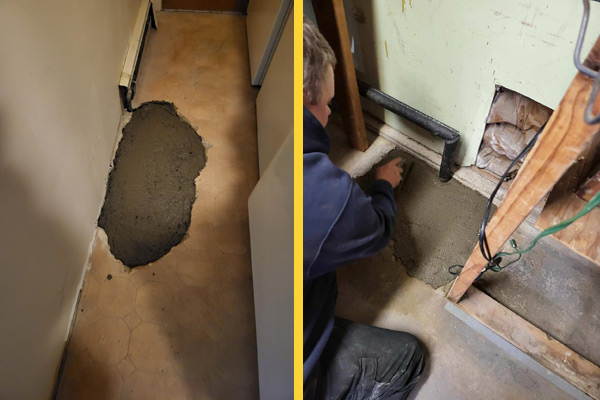 If you have any questions regarding radiant heat floors, radiant heat repairs, or any plumbing questions, please call our office at 866-635-0200! You can also use our book online feature on the homepage of our website!
If you are interested in having radiant heat floors installed in your home, under your driveway, or in a new home addition, Zeek Plumbing can review the scope of work on site and provide you with a free estimate!